Building a Better Pool for Ashland
Making a splash, learning new moves, pool parties, relaxing and feeling good. No wonder community pools matter.
Learning to swim is a life skill—and a survival skill. Drowning is the leading cause of death in Oregon for children four and under.
Lap swimming may be the best exercise ever. At the Daniel Meyer Memorial Pool, the first swimmers take their lanes at 5:30 a.m., the last at 7:00 p.m.
Water polo is one of the world's toughest sports. Ashland High School's water polo teams compete at the highest level, but they can't host meets: the Daniel Meyer Memorial pool isn't deep enough.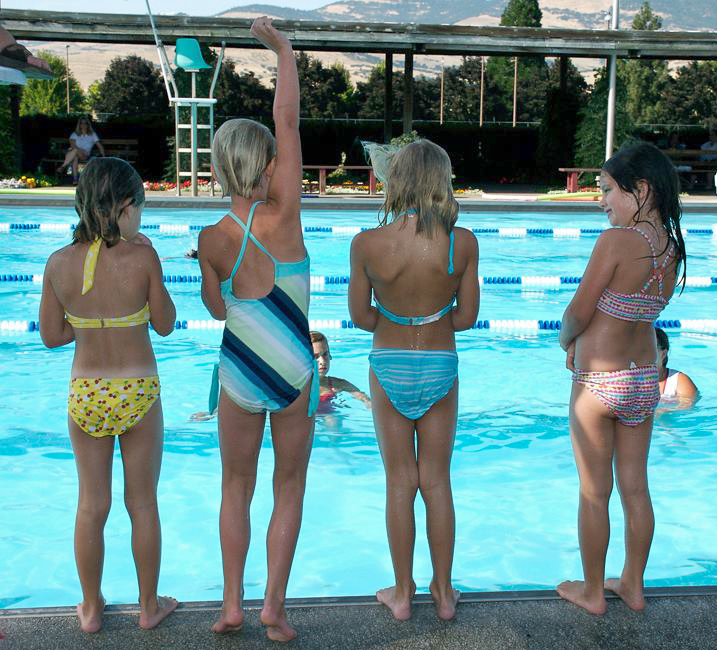 Daniel Meyer Pool Update: December 20, 2020
Not surprisingly, COVID 19 has taken a large toll on the Ashland Parks and Recreation Commission. It has had to close programs to reduce the risk of infection, lay off employees, and place projects on hold.
Nonetheless, on December 8th, the APRC hosted an online public meeting to present the latest draft of the new Daniel Meyer pool design, created by Robert Sherwood Pool Designs, Inc. Viewers had a chance to see detailed blueprints and schematics for the pool, plus ask questions about all aspects of the project. APRC indicated that this was the first of an ongoing effort to keep the public informed.
The commitment to rebuild the Daniel Meyer Pool—whether it be for swim lessons, recreation and leisure, aquatic rehabilitation for seniors, or aquatic sports—remains as strong as ever. For now, though, funding and construction is dependent upon Ashland's economic recovery, specifically when Food and Beverage Tax monies are available to be used towards the previously approved revenue bond.  
View the Renovation Draft Design Report
View the Public Meeting Presentation (December 8, 2020)
–––––––––––––––––––––––––––––––––––––––––––––
BACKGROUND: Since 1983, Ashland's Daniel Meyer Memorial Pool has offered a cold splash against the summer heat, swimming lessons, lap and recreational swimming, water polo, gentle swim for seniors and more. Thirty-seven years later, it has aged out and public swimming in Ashland is at a cross roads.
In 2018, a Pool Ad-Hoc Committee was appointed by the Ashland Parks and Recreation Commission. It has surveyed residents and conducted listening sessions to gain community-wide input on what to do—from making simple repairs to imagining a year-round aquatic facility.
Last September, 2019, the Pool Ad-Hoc Committee submitted their final recommendations to the Ashland Parks and Recreation Commissioners. The five commissioners were unanimous in their support of the committee's recommendations and funding was approved. The $2.9M project is to be funded by a revenue bond, backed by the food and beverage tax.
CLICK HERE to see the full recommendations.
Building a better pool requires community-wide input and investment. Please join us in this vital campaign!