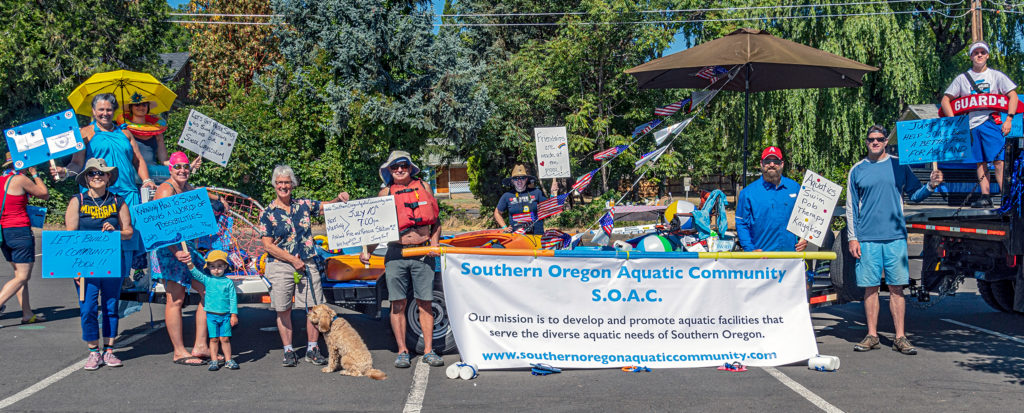 SOUTHERN OREGON AQUATIC COMMUNITY (SOAC)
Mission Statement:
Southern Oregon Aquatic Community's mission is to develop and promote aquatic facilities that serve the diverse aquatic needs of southern Oregon.
Members and History:
Southern Oregon Aquatic Community (SOAC) is made up of swimmers and non-swimmers alike who share a vision of promoting all things aquatic in southern Oregon. Currently, our main focus is promoting and supporting Ashland Parks and Recreation Commission (APRC) in their effort to provide a better community pool for Ashland.
SOAC obtained IRS status as a nonprofit in the state of Oregon. Currently, SOAC members are involved in two main activities:
As "aquatic ambassadors" raising public awareness of the need to replace Ashland's only public community pool – the Daniel Meyer Memorial Pool; and
Seeking grants and donations for the pool project.

THE APRC POOL AD-HOC COMMITTEE
The Daniel Meyer Memorial Pool opened in the summer of 1983 with support from citizen fundraising efforts and $100,000 donation from Margaret and Albert Meyer to memorialize their late son. When it became clear that the pool had aged out, 35 years later, a Pool Ad-Hoc Committee was formed and charged by Ashland Parks and Recreation Commission (APRC) with assessing needs and exploring options for renovating or replacing the Daniel Meyer Memorial Pool. Part of the committee's charge was to submit a formal recommendation to the Ashland Parks and Recreation Commission for action.
In September, 2019, the committee presented its recommendations, calling for a new pool, 25 yards by 25 meters, including an attached recreation/therapy alcove.
The committee included: Commissioner Rick Landt, Commissioner Mike Gardiner, Director Michael Black, Superintendent of Recreation Rachel Dials, Manager of Recreation Lonny Flora, Superintendent of Parks Mike Oxendine, Chairman Matt Miller, Vice-chair Rebecca Kay, Senior Center Liaison Jackie Bachman, Ashland School District Liaison Todd Lantry, and citizens Risa Buck, Marc Heller, Mike Hitsky, Gary Simms, and Jocelyn Sanford.
To see the committee's full recommendations, CLICK HERE.
The committee, having done its work, is now disbanded.