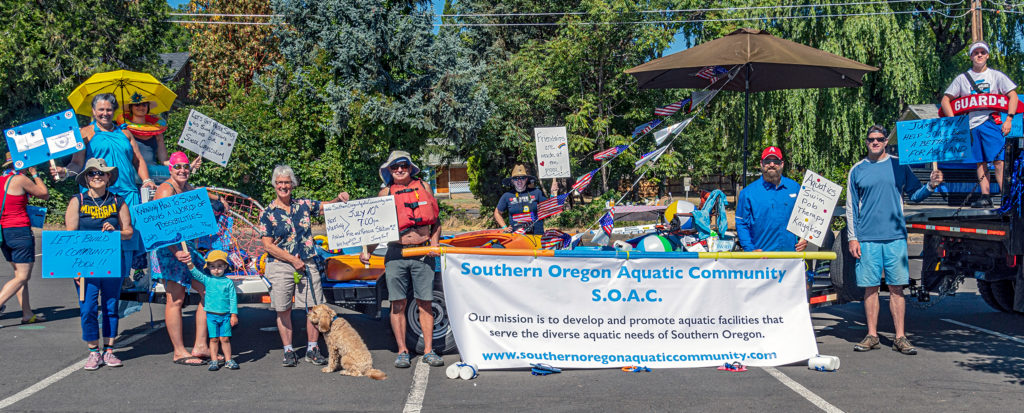 SOUTHERN OREGON AQUATIC COMMUNITY (SOAC)
Mission Statement:
Southern Oregon Aquatic Community's mission is to develop and promote aquatic facilities that serve the diverse aquatic needs of southern Oregon.
Members and History:
Southern Oregon Aquatic Community (SOAC) is made up of swimmers and non-swimmers alike who share a vision of promoting all things aquatic in southern Oregon. Currently, our main focus is promoting and supporting Ashland Parks and Recreation Commission (APRC) in their effort to provide a better community pool for Ashland.
SOAC first came together in 2015 (loosely organized) and is now actively seeking 501(c)3 status and has already officially established its organization as a non-profit with the State of Oregon. SOAC members are involved in two main activities:
As "aquatic ambassadors" raising public awareness of the need to replace/renovate Ashland's only community pool – the Daniel Meyer Pool; and
Seeking grants and donations for the Pool Project.

THE APRC POOL AD HOC COMMITTEE
The Daniel Meyer Memorial Pool opened in the summer of 1983 with support from citizen fundraising efforts and $100,000 donation from Margaret and Albert Meyer to memorialize their late son. The pool is aging and renovations will be needed to keep the pool operational. The APRC Pool Ad Hoc Committee was formed and charged by Ashland Parks and Recreation Commission (APRC) with assessing needs and exploring options for renovating or replacing the Daniel Meyer Memorial Pool. Part of the committee's charge is to submit a formal recommendation to the Ashland Parks and Recreation Commission for action.
The committee includes eight citizen volunteers, one Senior Community Liaison, two APRC Commissioners, City of Ashland and APRC staff (not listed).
Learn more and review meeting agenda and minutes from March 6, April 3, and May 1 meetings.